World
Classical home listening: French song with Roderick Williams; Ennio Morricone's cinema suites | Classical music
The album Mirages: The Art of French Song (Champs Hill), with the baritone Roderick Williams and pianist Roger Vignoles, grew out of a Wigmore Corridor recital, recreating the intimacy and form of a live performance programme to scrumptious impact. In no space of repertoire, it appears, is Williams not comfortable in addition to professional. Latest Schubert song cycles (with pianist Iain Burnside) and English repertoire stand out in his various discography. Now, with Vignoles as an ever idiomatic and responsive companion, he has turned to French song.
Opening with the sensual thriller of late Fauré – 4 songs, together with Reflets dans l'eau and Danseuse – the duo steer gracefully to atmospheric ballads by Debussy's buddy André Caplet, spiky Arthur Honegger miniatures and Ravel in Spanish temper (Don Quichotte à Dulcinée). Williams's personal idiomatic, semi-declamatory Verlaine settings, Les ténèbres de l'amour (1994), kind an efficient bridge to extra Honegger, Poulenc and, in excellent conclusion, Debussy's Beau Soir.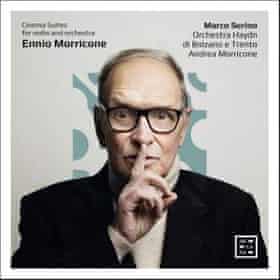 Ennio Morricone, orchestrator, conductor, trumpeter however above all composer of scores for greater than 400 movies, died in 2020, aged 91. Had he stopped his cinema profession after The Good, the Dangerous and the Ugly (1966) or The Mission (1986), he would nonetheless be well-known, his music plundered, borrowed, recreated in each style from hip-hop and reggae to jazz and classical. A brand new album, Ennio Morricone: Cinema Suites for Violin and Orchestra (Arcana), performed by his son Andrea Morricone, invitations us to enter the dreamlike ambiance of his scores as music alone, these haunting theme tunes given refined orchestration and new color.
Carried out by his longtime collaborator, violinist Marco Serino, with the Orchestra Haydn di Bolzano e Trento, it options preparations Morricone had made for the reason that Eighties, revising them late in his life. The method was interrupted by his dying and completed, in tribute, by Serino. A should for movie music devotees however fascinating, too, as a testomony.
The BBC Philharmonic's live performance from Manchester's Bridgewater Corridor, performed by Ludovic Morlot, with Carolyn Sampson (soprano), explores the concept of home and away: Copland's Letter from Home, Betsy Jolas's Letters from Bachville, Dutilleux's Correspondances and Dvořák's Symphony No 9, "From the New World". Radio 3 in Concert, Friday, 7.30pm/BBC Sounds.