World
West Ham v Wolves: Premier League – live! | Football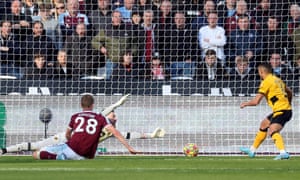 10.28am EST
10:28
65 min: A third chance for Silva in just a few minutes. This time he thunders the ball over the bar. Perhaps Jimenez, warming up by the pitch, may like some of these chances…
Updated
at 10.28am EST
10.26am EST
10:26
64 min: Wolves have reacted well here, and they look genuinely hopeful as they move up the pitch and search for an equaliser. Seconds after his huge chance, Silva was blocked at short distance by Zouma.
However, by committing more players forward, more gaps are opening up for West Ham to potentially exploit. This could be a fun final 30 minutes.
10.24am EST
10:24
61 min: Wolves very nearly equalised immediately, with Marçal thundering down the left flank and then picking up Silva's run in the centre of the pitch with a low cross. Silva attempted to finish low to the near post but he just could not get his shot on target.
10.20am EST
10:20
GOAL! West Ham 1-0 Wolves (Souček 59)
At last, West Ham break the deadlock. After all of their efforts today, it came from a throw in, with Cresswell and Antonio linking up from the left before Antonio fed in a low cross to the Czech, who tapped the ball into the net at full stretch. Well done.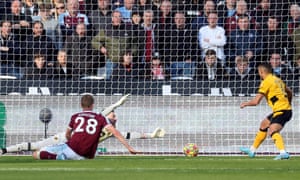 Goal: Tomas Soucek scores. Photograph: Paul Childs/Action Images/Reuters
Updated
at 10.24am EST
10.17am EST
10:17
54 min: With visions of Lampard and Gerrard clearly playing in his mind, Rice rifles another shot from distance. Although not as excellent as his first attempt that struck the post, another solid effort that just flew past the right post.
10.15am EST
10:15
52 min: Some better work from Wolves in West Ham's half, with Trincão already picking up the ball in advanced positions a number of times since the restart. This time, the Portuguese strikes a sharp left-footed shot from just outside of the box. Just over the bar.
10.11am EST
10:11
49 min: West Ham have immediately returned to marking themselves as a clear goal threat in the second half, with Bowen very nearly through after some sloppy passing from the Wolves defence. Sa collects.
10.09am EST
10:09
46 min: A touch of clumsiness from Zouma who took the ball out of the hands of Fabianski, giving up a corner in the process. West Ham attempted to break after the Wolves corner came to nothing but an offside call on Bowen put an end to it.
9.54am EST
09:54
Half Time: West Ham 0-0 Wolves
While West Ham have had by far the majority of the chances and spent more time in their opponent's box, both teams will feel that they had enough opportunities to lead at the break. More to come.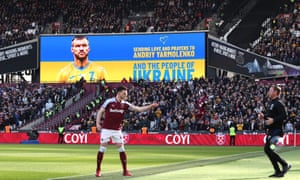 All square at half time: The LED board inside the stadium shows a message of support to Andriy Yarmolenko to indicate peace and sympathy with Ukraine. Photograph: Jack Thomas – WWFC/Wolves/Getty Images
Updated
at 9.58am EST
9.51am EST
09:51
45+4 mins: Despite Saiss briefly leaving the pitch, Wolves immediately responded with the best chance of the match to close the half. After a desperate scramble in West Ham's box, Hwang picked up the ball on the edge of the area with Fabianski out of position in goal. But he just sent his shot wide of the right post. Tough.
Updated
at 9.51am EST
9.48am EST
09:48
45 min: As West Ham attempted to strike, Saiss went down and remained down. A slight pause followed as the Wolves medics evaluated him and ensure that there is no head injury. After a while, he got up and jogged off the pitch with the medical team. Good to see.
9.46am EST
09:46
44 min: West Ham continue to grow into the half. This chance was initiated bu quick, direct passes into the box between Lanzini, Soucek and Antonio. From his spot on the left, Antonio attempted to pick out Lanzini who continued his forward run, but he just could not properly reach the ball.
9.41am EST
09:41
39 min: Yet another chance for West Ham, this time from their main man Declan Rice who picked up the ball and shot from far out of the box towards the top right hand corner, but it collided off the post instead. Beautifully struck.
9.38am EST
09:38
37 min: Another chance from West Ham, with Antonio picking the ball up on the left of the box and then finding Lanzini on the edge of the box. Lanzini's strike, although strong and on target, was just too central and easily handled by Sa.
9.35am EST
09:35
33 min: This is really starting to pick up. Sa continues to thrive, first saving a cross from Johnson then immediately releasing Silva right at the other end with a wonderful pass. Silva ran at the goal alone, two defenders around him, before he was tackled by Zouma and fell to the ground. It looks like Zouma got the ball, but he briefly hurt his knee in the process. End to end stuff.
9.32am EST
09:32
30 min: The corner turned out to be another big chance, with the ball bouncing dangerously around the box. Zouma attempted to kick the ball, blasted it out of play and seemingly denied Antonio, who was standing right behind him, a far easier opportunity.
9.30am EST
09:30
28 min: Good chance for West Ham! Antonio picked up the ball from Soucek, turned and then tried to blast his finish into the top right hand corner. Good attempt and a very good save from Sa. Corner.
A message supporting West Ham United's Andriy Yarmolenko and the people of Ukraine. Photograph: Nigel French/PA
Updated
at 9.41am EST
9.27am EST
09:27
26 min: West Ham players are really beginning to impose themselves in Wolves' half. First Bowen's attempted cross went out for a corner, which was cleared, then Lanzini was just unable to find Antonio with a through ball. Still no clear cut chances but they keep on coming forward.
9.25am EST
09:25
22 min: Chance! West Ham won a free kick right on the edge of the area after a foul from Saiss. Unsurprisingly, Aaron Cresswell took a great free kick which just fizzed past Sa's left post at pace.
9.22am EST
09:22
20 min: This has been one of West Ham's most sustained periods of possession today. It very nearly came undone as Zouma was almost caught in possession from defence, but Soucek's final pass to Antonio was too heavy and went out for a goal kick. West Ham just lacking with their final ball right now.
9.19am EST
09:19
17 min: Another chance for West Ham after Antonio picked up the ball in Wolves' half. Lanzini played a sweet ball, picking out a nice run from Bowen to the left of the goal. Bowen attempted to turn and find a teammate, but Wolves keeper Sa moved from his goal to meet Bowen and blocked the cross.
9.16am EST
09:16
14 min: After yet more slow build-up play from Wolves with ample low passes, West Ham initiated their first quick break of the game. It started with an excellent tackle from Soucek and ended with Bowen attempting to unleash Antonio, but the ball was just slightly too heavy and Wolves cleared the danger. Good chance.
9.12am EST
09:12
11 min: Both teams seem to have settled down in these early stages. Wolves responded by calmly building until they reach the edge of the box. Hwang attempted too unload on a shot from outside the box, which Rice smartly blocked.
9.10am EST
09:10
9 min West Ham are already looking pretty dangerous from both flanks. After Cresswell's earlier solid ball from the left, a low cross from the right by Johnson causes some problems before Wolves clear.
9.09am EST
09:09
7 min: A chance for Wolves. Neves looped an extremely high ball up towards Silva. Dawson handled the high ball terribly and it bounced towards Silva, but he just lost track of the ball in the sun and couldn't capitalise.
9.07am EST
09:07
5 min: A first spell of possession for West Ham begins with Rice pulling the strings with both his distribution and tackling. It yields a first chance: Cresswell whipped a ball into the box, which just evaded Bowen. A replay, however, shows that Bowen may have been offside.
Updated
at 9.07am EST
9.04am EST
09:04
2 min: Wolves start their first attack with Silva and Hwang both combining well with the midfield as they reached the edge of West Ham's box. Wolves lose possession but quickly regain it. An early free kick for the away side comes to nothing.
9.01am EST
09:01
1 min: West Ham captain Declan Rice held a Yarmolenko shirt as the teams lined up and prepared to begin. Wolves kick off.
Updated
at 9.01am EST
8.54am EST
08:54
Both teams have been warming up in special shirts referencing Ukraine. Wolves players entered the stadium with black "no war" shirts, while West Ham players each wore shirts with Andriy Yarmolenko's name on the back. They have now returned to the dressing rooms. Kick off shortly.
8.51am EST
08:51
Asked if he thinks this game is essential in the race for Europe, Bruno Lage does not think so.
"It's an important game because it's about [a] six points game, but in the Premier League, I think it will be until the end… Every game it's a hard game to play. Even in the last four or five days we saw good example of how quickly things can change."
8.49am EST
08:49
Some interesting decisions from both managers. After a recent achilles injury, Manuel Lanzini has returned to the West Ham starting lineup and may provide some of the creativity that Antonio is hoping for behind him. Meanwhile, Bruno Lage's Wolves has made five changes from Wolves lineup against Arsenal. Most notably, Fabio Silva starts ahead of Raul Jimenez.
Lage says that such rotation is necessary in the premier league and he wants to freshen up his team after the Arsenal game a few days ago: "I did five subs in the team. I want to bring new energy," he says
8.41am EST
08:41
Teams:
West Ham XI: Fabianski; Johnson, Dawson, Zouma, Cresswell; Soucek, Rice; Bowen, Lanzini, Fornals; Antonio.
Substitutes: Areola, Vlasic, Noble, Benrahma, Diop, Kral, Oko-Flex, Alese, Perkins.
Wolves XI: Sa; Kilman, Coady, Saiss; Hoever, Neves, Dendoncker, Marcal; Trincao, Hwang; Silva.
Substitutes: Jimenez, Podence, Ruddy, Ait-Nouri, Neto, Boly, Jonny, Moutinho, Cundle.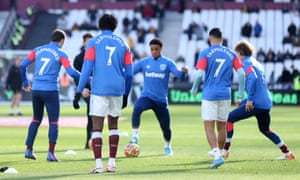 West Ham United players warm up with shirts with Andriy Yarmolenko on the back, to indicate peace and sympathy with Ukraine and team mate. Photograph: Alex Morton/Getty Images
Updated
at 8.49am EST
8.34am EST
08:34
In a pre-match interview with Sky Sports, Michail Antonio acknowledged that he has not been scoring goals recently but he believes it will soon pick up again.
"One thing I know for a fact is I am contributing for the team, I am helping the team and the goals will come again," he said.
Antonio also noted that West Ham's general form has become "a bit stale" after starting the season in free flowing form but, again, he ended on a confident note: "We're not playing at our best but we're still picking up points." Antonio suggested that their current form is down to a shift in attitude and style since they established themselves towards the top of the league.
"We're now trying to establish ourselves as a top 4 or top 7 team. We're no longer sitting back, we're trying to be a possession based team," he said.
8.31am EST
08:31
Ukraine's Andriy Yarmolenko has been granted compassionate leave in light of Russia's invasion of Ukraine so he will not be competing.
"He's not in a really good position at the moment. We've given him a few days off and that's totally understandable," said West Ham manager David Moyes of Yarmolenko in his pre-match press conference on Friday.
"He's asked if he can have a few days off now and we've certainly granted him that. It's a really difficult time for him and his family and we respect that.
"I spoke with him [on Thursday] at the training ground and he was upset, which you can imagine and rightly so. We just hope everything goes well and all his family members keep safe."
8.31am EST
08:31
Preamble
Hello! Welcome to our coverage of today's top half Premier League clash between West Ham and Wolves at London Stadium. With West Ham 6th in the league and Wolves 8th, just two points separating them, this is a big one as both teams look to end great seasons by pushing for Champions League qualification and/or the remaining European places.
West Ham arrive at home today with questions surrounding their attacking production, having landed just 13 shots on target in their last five matches, and David Moyes fielding numerous questions in the build-up about Michail Antonio's recent sparse scoring record in the Premier League after a great start. He has not scored since New Years Day.
They will face one of the very toughest teams to break down in Wolves, who remain supreme defensively, but left Emirates Stadium deeply frustrated after conceding two goals after the 80th minute.